EnerMiser with Remote Control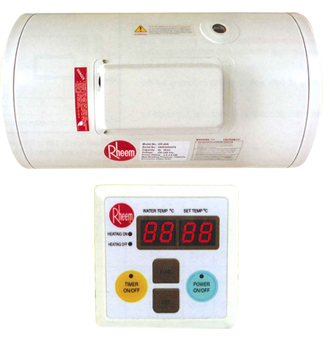 Advance Features:
Water temperature display
Temperature setting display and adjustment
Timer controlled heater operation with override function
Current time display
Fault diagnosis
Designed to operate efficiently only when needed and saves energy on standby mode
Thick CFC free polyurethane inosulation ensures water remain hot and reduce energy wastage
Simple to use remote controller with temperature display, fault diagnosis and setpoint adjustment
Superb energy saving features coupled with the convenience and safety of a multi point storage heater-only from Rheem
All New Remote Controlled Rheem EnerMiser!

After years of continuous product development and innovation, market leader Rheem launches an industry first electric storage water heater with full remote control functions.

Advance Technologies with Multiple Safety features incorporated to guarantee safety.....
Remote Controller uses the advance microcomputer technology to control heater operation. The LED display enables POWER ON/OFF, HEATING ON/OFF, TIMER ON/OFF, Clock functions and Fault Diagnosis. By simple programming, heater operates automatically within preset time and thus saves energy when compared to unregulated power usage. Coupled with the new thermostatic control is a thermal overload cut out as added safety feature.
Exclusive Rheemglas enamel tank protects against corrosion by coating the inner tank with an exclusive Rheemglas and fused with solid steel at 870°C. The coating on the tank effectively resists corrosive attacks of hot water chemicals and ensures a longer life span on Rheem heaters. Tank is designed and tested to withstand 2000kpa hydrostatic test pressure for pressure of 1000kpa.
Industrial grade temperature and pressure relief(TPR) safety valve provides protection against excessive water pressure (Pre-set at 0.98Mpa). The TPR allows tank to be manually drained to facilitate servicing.
Incoloy stainless steel sheathed immersion heating element is heat corrosion resistant, quick heat transfer and avoid dry firing. The incoloy stainless steel sheathed material improves the heating time and thus saves on the heat energy. With increased in the length of the heating element, the heating area doubles as compared to those of same power rating!
Anode rod protects the inner tank from corrosion by equalizing aggressive water reaction. Thus extending the lifespan of Rheem heaters.
CFC free and Energy Efficient polyurethane insulation between inner tank and epoxy coated steel jacket provides maximum heat retention and minimize operating cost after years of service.
Universal bracket provides the flexibility of both wall or ceiling mounting for the space saving horizontal heater.
Compliance to international requirement IEC 60335-2-21. Tested and Approved by TUV SUD PSB Corporation.

* Please specify Left or Right connection.
* Above diagram shows Left connection heater.
Specifications